Shri Dakshineswari Maa Polyfabs Ltd.
Shri Dakshineshwari Maa Polyfabs Ltd is a company that specializes in producing FIBC (Flexible Intermediate Bulk Containers) jumbo bags, Block Bottom bags, and ADSTAR bags. FIBC jumbo bags are large industrial containers used for transporting and storing bulk materials, while Block Bottom bags are commonly used for packaging various products. ADSTAR bags are a type of multi-layer,
polypropylene-based sack used for packaging cement and other dry bulk materials. Shri Dakshineswari Maa Polyfabs Ltd comprises of two production lines and 110 Looms, whose monthly capacity is a total of 1Crore 20 Lakh bags. Out of the two production lines one is a fully automated Block Bottom unit which has been imported from Germany ( Windmoller & Holscher / BSW) to cater to the rising demand of Block bottom welded woven sacks, whereas another unit has been commissioned from Lohia Group of Kanpur, India, for manufacturing of conventional PP Woven Bags.
The product ranges are applicable in various sectors: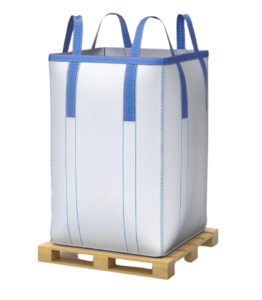 FIBC
That sounds impressive! Producing high-quality and durable international food-grade FIBC jumbo bags demonstrates your commitment to meeting the stringent standards required for packaging food products safely. FIBC jumbo bags are essential for various industries that handle bulk materials, and ensuring they are food-grade certified is crucial when dealing with food and beverage products.
Having the capability to supply a wide range of FIBC bags worldwide indicates your company's flexibility and ability to cater to different industries with varying needs and specifications.The bags typically hold anywhere from 2000lbs to 4000lbs of product and generally placed on pallets by fork using the attached corner lift loops.
Customers value suppliers who can accommodate their unique requirements and provide customized solutions, which can significantly impact their supply chain efficiency and overall operations.
BLOCK BOTTOM (AD STAR)
Block Bottom bags are suitable for both manual & automatic placement onto the filling spout thus increasing output. The brick-shaped PP woven sacks are produced without adhesives by heat-welding of the coating on the fabric.
Once filled, the Block Bottom design gives the bag a brick shape, so it can be stacked perfectly. The brick square shape also saves cost on storage, transportation, handling when compared to other types of packaging.
Since there is no loss of material during packaging it is highly productive for both the company and the end users.Material in Block Bottom Valve Bag means your material will reach your customer in perfect condition so it will bring in more trust and market share towards your company.
Inspite the use of advance technology the price of Block Bottom Bags are competitive, besides being low in weight less raw material is consumed. Even expensive adhesives and sophisticated gluing machinery is also no longer needed for Block bottom bags, as it is used in the case of conventional sacks, thus making it a winner product among all. "Zero pollution based unit – catering to the environment."
LAMINATED BLOCK BOTTOM (AD STAR)
That's great to hear! Producing high-quality and durable laminated block bottom (AD STAR) bags is an essential aspect of meeting the demands of various industries that rely on secure and reliable packaging solutions. AD STAR bags, with their block bottom design and laminated construction, are well-suited for a wide range of applications, including the packaging of cement, chemicals, pet food, agricultural products, and more.
The laminated construction of these bags provides additional strength and protection, ensuring that the contents are safely contained during transportation and storage. This durability is especially crucial for industries where the packaged materials are sensitive to moisture, contaminants, or physical damage.